Downunder Grads
Schedule | Credits | Festival Screenings | Links| Projects | More Projects | Showreel
Downunder Grads is an exciting 4-part documentary series nationally broadcast on Special Broadcast Station (SBS). This film was produced by Big Island Pictures with funding from Film Australia's National Interest strand. hartflicker principal Phoebe Hart was co-writer and director.
It's the start of the semester at one of Australia's top universities and 37,000 students are about to embark on their studies.
University is make or break time; a time that can change people forever. From free education in the 1980s to HECS fee debt and a large increase in full fee paying students, university education is now big business.
Through a variety of stories this four-part series explores the contemporary Australian university experience of both international and Australian students from a range of different backgrounds.
Downunder Grads gives a special insight into the particular challenges facing this generation of students. Each character-driven story reveals the trials and triumphs of young people as they strive to make a life for themselves.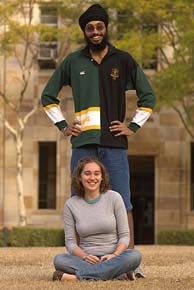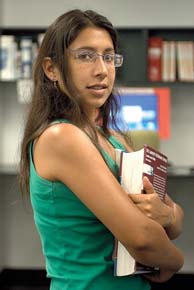 Downunder Grads' Gurteaj Atwal Singh & Emily Laird (left), Lucy Weber, and Alejandra Arbe. Photographer Jasin Boland. Images © Film Australia
First Run Broadcast Schedule on SBS
Episode 1 In the Mix - 8:00 PM Wednesday 5/3/2008
Some of those students are local and some have travelled many thousands of miles and their first priority is to find a place to live. Wei Wei has just stepped off the plane from China and is both happy and anxious. Emily has come from the US on an exchange program, and Gurteaj is moving to the city from the country. They will all find new challenges, new opportunities and form new friendships.
Episode 2 The Big Squeeze - 8:00 PM Wednesday 12/3/2008
Set against the backdrop of changing university life and student aspirations, this episode revolves around funding, which has become a major issue for both universities and students. Just how does it affect today's staff and students? Final year student Lucy has the student union to run under Voluntary Student Unionism as well as her studies. Lara finds her architecture classes too large for the classrooms. And international student Leo feels the pressure of the high cost of his education for his parents.
Episode 3 Testing Times - 8:00 PM Wednesday 19/3/2008
For Toby, attempting a triple degree while maintaining his political party commitments are part of his life plan. Japanese masters student Tsuyoshi is initially over the moon to be in Australia but soon finds the whole experience overwhelming. And full-fee paying international student, Alejandra, feels one step behind her local classmates as she contemplates failure, disgrace or the loss of her family's dream for a better life for her through education.
Episode 4 Two Worlds Collide - 8:00 PM Wednesday 26/3/2008
Indonesian scholarship recipients Nita and Muhammad must drastically alter their lives to take up the opportunity to study in Australia. As AUSAID scholarship students, they are returning to study after being in the workforce. In addition to culture shock, they also have to deal with separation from their families.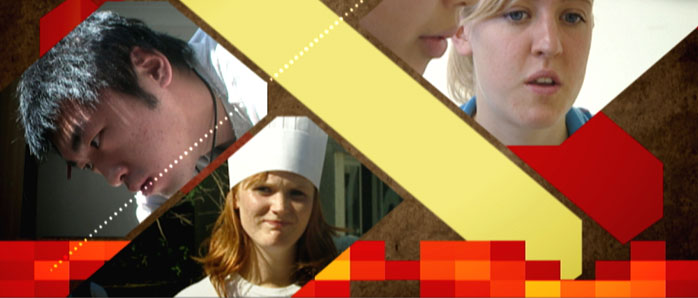 Repeats on SBS
Episode 1 - 3:30 PM Friday 4/7/08
Episode 2 - 3:30 PM Friday 11/7/08
Episode 3 - 3:30 PM Friday 25/7/08
Episode 4 - 3:30PM Friday 1/8/08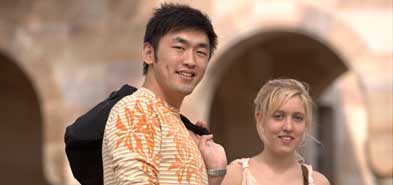 Architecture students Leo Jin and Lara Nobel. Photographer Jasin Boland. Images © Film Australia
Writers: Phoebe Hart & Suzanne Howard
Directors: Phoebe Hart, Randall Wood & Suzanne Howard
Producer: Mark Chapman
Director of Photography: Craig Lucas
Sound: Suzi Lucas
Editor: Rebecca Richardson
Post-Sound: John Wilsteed
Music: Yanto Browning
Graphics: Egotripp
Executive Producer: Penny Robins
Narrator: Deborah Mailman
Syndicated story by Erik Jenson as it appeared in SMH 3 March 2008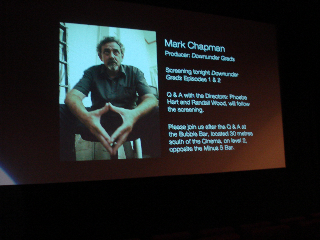 Downunder Grads, was the feature of a fundraising screening held at Dendy Opera Quays, Wednesday June 20, 2007 as part of the Sydney Film Festival. All proceeds from the fundraising screening went to the Mark Chapman Trust Fund, which has been set up to assist Mark's family to pay medical expenses while he undergoes rehabilitation for a severe stroke. The session incorporated a Q&A with both Randall Wood and Phoebe Hart, a screening of Episodes 1 and 2, and drinks afterwards at the Bubbles Bar on the Quay.
Downunder Grads' Director Randall Wood (left) with Producer Mark Chapman and Director Phoebe Hart. Photographer Jasin Boland. Image© Film Australia
Downunder Grads on Film Australia website. It features publicity stills, synopses, and Quicktime trailer of the intro.
Downunder Grads on SBS website... there's a Q&A with the series directors.
ABC Content Sales - to purchase a copy of the series.
DUGS on Facebook
Stories about Downunder Grads in Courier Mail, Sydney Morning Herald, and The Age.
Return to the top of the page