Roller Derby Dolls
What is Roller Derby? | The Rules | Cast and Crew | Events & Publicity | Derby Links| Projects | More Projects | Showreel
SCREENING on ABC1, 8:00pm Tuesday 9 September, 2008
and
RE-SCREENING on ABC2, 8:05pm Wednesday 17 December, 2008
RE-SCREENING on ABC1, 1:30pm Tuesday 10th February, 2009
RE-SCREENING on ABC2, 10:00pm Wednesday 14th July 2010
Missed it???
NOW on YouTube!!
Never fear... Roller Derby Dolls can be seen on iView until the 24th of September, 2008. To watch go to the "Full Program List" and Roller Derby Dolls is listed under "R" in the "A-Z" section and under "Documentary" in the "Genre" section. After this time, you can stream or download the program as a .mp4 or .wvm at ABC TV Interactive. There is also an extensive image gallery of the roller girls at the same site.
You can also own Roller Derby Dolls on DVD - buy it from Screen Australia for $AUD34.50 home video usage cost.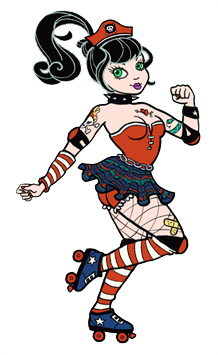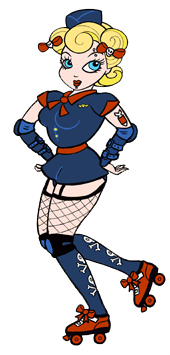 "Is there anything more appealing than women belting the bejezus out of each other?" Gordon Farrer, The Age
"... fascinating, fast-paced, full-throttle..." Sunday Mail Adelaide.
"Roller Derby Dolls feels like an irresponsible entertainment (it's one of the many things I like about it...)." Ian Warden, Sunday Canberra Times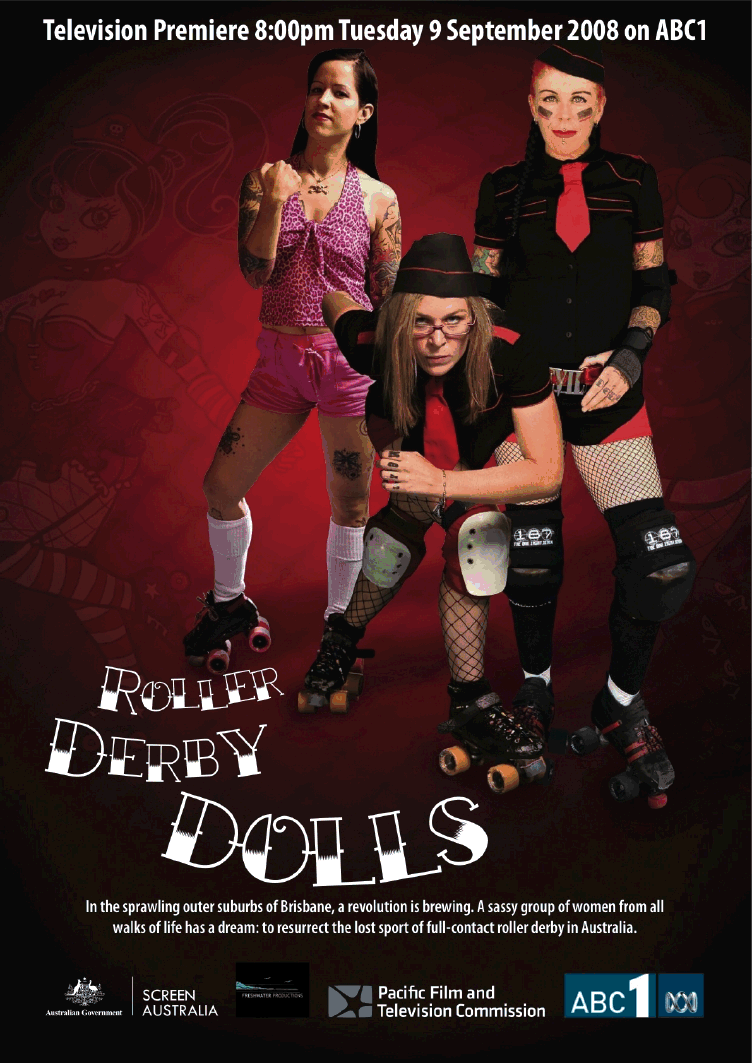 "**** Strap on the skates and get ready for a thrill ride around the local roller rink as the girls from Queensland start their journey to the top of the sport. With a thumping rockabilly soundtrack and a hilarious team roster of characters, this true-life series is going to become a television staple, so start watching straight away." JV, Time Out Sydney
Roller Derby Dolls is a half hour documentary for ABC1 that charts the rise of the roller derby girls in Brisbane, Australia, produced by Film Australia in association with Freshwater Productions, and directed and co-written by Phoebe Hart (principal of hartflicker). The flat track roller derby action comes courtesy of the women from the Sun State Roller Derby League - formerly the Australian Roller Derby Association.
Roller Derby Dolls is a story of female empowerment, friendship and struggles - all the while on old school 'quad' roller skates! Roller Derby Dolls is a feast of engaging characters, and all of them are absolutely mad about the wildly exciting and entertaining sport of roller derby. The derby dolls are part of a sporting phenomenon that is sweeping the country. This is a quirky and colourful documentary film with a terrific sense of pacing about a group of alternative women with attitude to burn. As director of the film, it's my hope that audience will fall in love with the girls, their world at the skate rink, and their passion - roller derby!
The roller girls were tracked throughout 2007 using digital cameras, and much of the time filming with a shoestring crew. The final product incorporates this gritty vision with high-end production footage of the skating, engaging interviews with the women, scenes of the girls' lives away from the roller rink, and views of the outer city suburbs where they live all set to an upbeat rockabilly musical score. The end result is a totally enjoyable and engrossing television experience.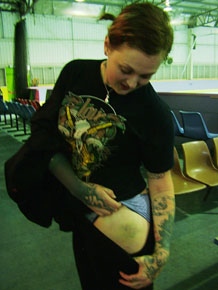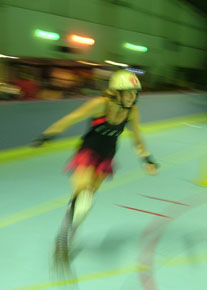 Roller Girls: Mercy Manners (left), Dead Meat and Evil Doll. Photographer Erin McBean. Images © Erin McBean.
Roller Derby has actually been around for a while... as far back as the 1920s in the States, where the game began originally. The sport gained popularity over the following decades throughout the world but, sadly, had all but disappeared by the 1980s.
Originally, the sport featured both women and men who were paid to put on staged bouts for an audience, almost like rock and roll wrestling. Skaters were selected, promoted and toured by businessmen who ran the whole outfit for profit. The argy-bargy was more of a performance than actual hostility, and skaters who had just had a big fight on the track would more often than not be having a friendly drink in the bar together after the game. In Australia, roller derby was promoted as "Roller Game" during the 60s and 70s, and this perhaps reflects the performative nature of this sport at the time.
Then in the early 21st century, after two decades in relative obscurity, the sport began to experience a grassroots revival, particularly among women, with leagues forming in urban centres across North America. The epicentre of the re-emergence is said to be Austin, Texas. At the end of 2005 there were over 50 such leagues in the States, and, a year later the number had grown to more than 130, and it's growing at a rapid rate globally. All leagues are characterised by a DIY ethic - this is a sport run by women for women.
Nowadays, the sport has rules, which must be followed out on the track at the risk of the skater being sin binned, or worse, thrown out of the league! However, the roller girls are able to bring out their own unique personalities and whims by selecting a 'derby name' (eg. Athena Monster, Venis Envy, Punchy Bruiser, etc.) and by dressing up in fantasy outfits... fishnet stockings, hotpants, stripy socks, sexy corsets, studded belts, and Rocky Horror make up and hair. It could be said that many of the women who come to roller derby would classify themselves as exhibitionists. They are also outsiders to some degree - rebels, nerds, punks, lesbians, mums, and girls who just don't quite fit in to society generally.
And only women can skate roller derby - no boys allowed. Men are still involved on the sidelines though: there are the guys who run the struggling roller-skating rinks where the girls scrimmage (practice bout), the coaches and umpires are often guys, and then there are the "skate widowers" - the boyfriends, partners and husbands who are left minding the kids while the women go off to skate.
In Australia, the revived sport only really got going in 2007. Now, there are now several leagues including Sun State Roller Derby (QLD), Northern Brisbane Rollers (QLD), Brisbane City Rollers (QLD), The Towns Villians (QLD) Victorian Roller Derby League (VIC), Melbourne Roller Derby League (VIC), Geelong Roller Derby (VIC), Adelaide Roller Derby League (SA), Canberra Roller Derby League (ACT), Perth Roller Derby (WA), Fremantle Derby Dames (WA), Newcastle Roller Derby League (NSW) and the Sydney Roller Derby League (NSW). See all the roller derby leagues worldwide here.
Roller Derby looks haphazard but, once you know how it's played, it's pretty simple to follow.
A match is called a "bout". During a bout, two teams skate against each other on a circuit track for two 30-minute periods or three 20-minute periods. There are five girls on the track per team - that's ten skaters in total for each "jam". Both teams have three blockers, one pivot, and a jammer.
All the blockers and pivots form a pack that try to block the two competing jammers. The jammers have to break through the pack to start scoring points. After lapping the pack, jammers score a point for each opposing member of the pack that they pass.
A jam begins as soon as the referee blows the whistle and goes for two minutes. So the idea is to go hell-for-leather and get as many points as possible. You can't deliberately trip, punch or elbow other skaters, but roller derby is not easy. This is a hight-contact sport, so you can get hurt! Helmets, mouthguards, wristguards, and knee and elbow pads are a must.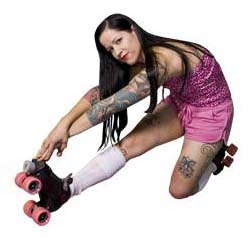 Co-writer/Director: Phoebe Hart
Executive Producer for Film Australia: Mark Hamlyn
Executive Producer for Freshwater Productions: Trish Lake
Producer: Vickie Gest
Associate Producer: Eve Williamson
Co-writer: Erin McBean
Director of Photography: Dan Macarthur
Sound Editor/Composer: John Willsteed
Editor: Rebecca Richardson
Animators: Liquid Animation
Stills Photographer: Jimmy Malecki
Narrator: Meshel Laurie
And starring... Evil Doll, Mimsy Mayhem, Doris Daynger, Nicky Knockout, Dead Meat, Mercy Manners, Mad Hatter and more!
Evil Doll presented her brand of roller derby at Brisbane Pecha Kucha on 17 February 2009.
Roller Derby Dolls took out a 'Mention D'Honneur' for Documentary: Individual Sport at the FICTS Festival in Milan in 2009. This is a film festival that highlights TV and movies about sport. RDD was also invited to screen at the Barcelona FICTS Sport Film Festival 2010.
RDD was up for Best Short Documentary on Friday 24 October, 2008 at the EnhanceTV ATOM Awards, but sadly did not take out the top gong.
Roller Derby Dolls was also nominated in the category "Produced by a woman, outstanding film or show" at the prestigious WIN Awards (Women Image Network) to be held in the USA on 3rd December (now pushed back to 2009 to coincide with the Academy Awards in Los Angeles). The WIN Awards is all about creating media that promotes gender parity, dispels female media stereotypes and forwards our mission to "FOSTER A WORLD WHERE EVERYONE WINS". The awards cover many categories including Outstanding Actress in Feature Film, Outstanding Documentary Film, Outstanding Comedy and Drama Series etc. Some of the other nominees on the night are: Susan Sarandon, Alyssa Milano, Angelina Jolie and Meryl Streep.
Roller Derby Dolls will be showing it at the 2008 Victoria Independent Film Festival which will run from November 22nd to November 23rd in Victoria, Australia.
16/9/08: See some tuff muff when Roller Derby Dolls screens at MUFF (the Melbourne Underground Film Festival), which runs 9-19 October 2008 at George Cinemas, Glitch Bar and Noise Bar.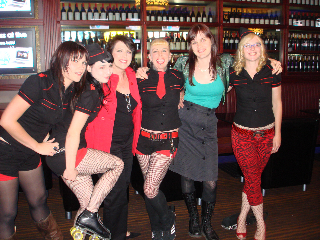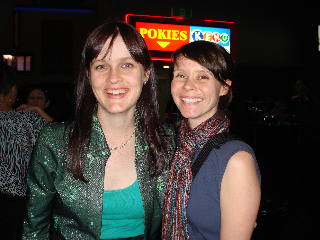 Some pics from the broadcast party at the Melbourne Hotel, West End, Brisbane.
Dead Meat (L) and Evil Doll (R) interviewed by Nova's Lutsy (AKA Blud Nutz) 9/9/08. Photographer: Amy Ireland. Image © DMG Radio.
See Evil Doll and Dead Meat interviewed by Nova's Lutsy - pretty funny!
Rave Magazine tipped its hat to the roller girls and Roller Derby Dolls in it 'Pop Culture' section. Nice quotes Evil!
Thanks Meredith for sending this clipping of Ian Warden's story in the Sunday Canberra Times (7/9/08):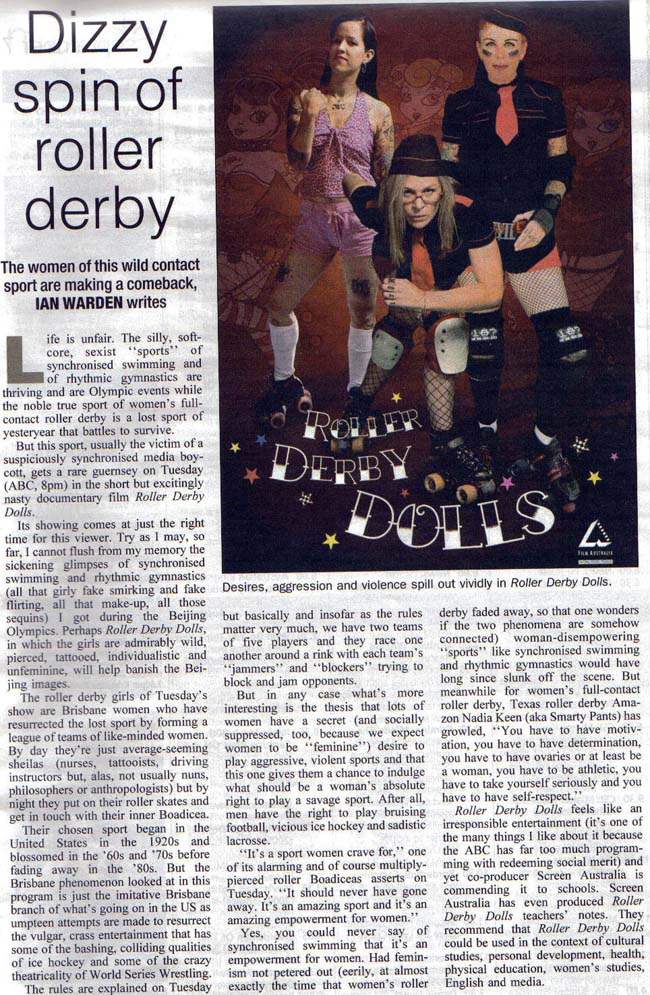 18/5/08: Special screening of Roller Derby Dolls... Sydney Roller Derby League presents... Roller Derby Mania Film Night Extravaganza! 7:00pm - 9:30pm at Mu-Meson Archives, 59 Paramatta Road, Annandale, Sydney, Australia. There'll be cupcakes, badges, girls on wheels and prizes!! Only $15 or $20 - get tickets by calling the following number, or by emailing Sydney Roller Derby League (or befriend a SRDL roller girl and get the goods from her). Contact Info Phone: 0408 008 485. Please note that tickets are limited so avoid roller rage and buy one now!
Here are some images of the roller girls (and guys) at the launch of the film 1 May, 2008 at Dendy Portside, Brisbane. You know who you are!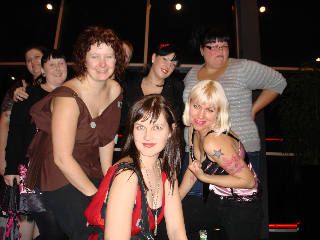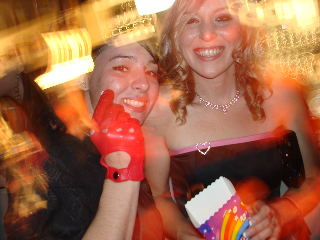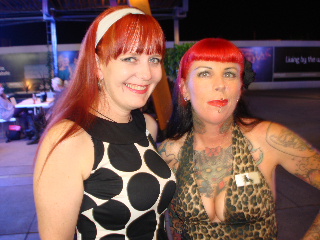 And well-spotted by Mz Vicki - an article in the Brisbane News May 7-13 2008 about the event: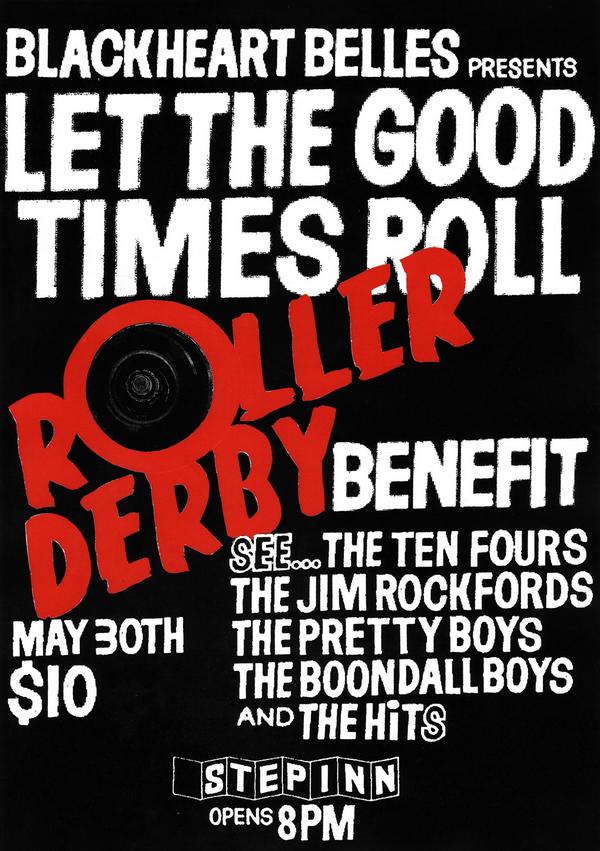 Pre-order Roller Derby Dolls DVD
Liquid Animation did the amazing title animations and graphics in Roller Derby Dolls.
Press kit for media.
The theme song to Roller Derby Dolls "Bats in the Belfry" is by Sydney-based band Zombie Ghost Train
Drew Barrymore directed a Hollywood blockbuster film about a Bliss Cavandar (Ellen Page) who escapes her small town misery when she joins a roller derby league called Whip It! Production commenced June 2008.
Believe it or not, there was a 1982 episode of Fantasy Island entitled Roller Derby Dolls. In the episode, a manager of a sporting goods store wishes to own and manage the Brownsville Belles, a professional roller derby team.
Return to the top of the page